Welcome to the AuzenMixer website!
What is AuzenMixer?
AuzenMixer is a user developed application to mimic and extend the behavior of the default Auzentech tray software provided for Windows 7.
Basically this is a killer app for Auzentech Xplosion 7.1 owners. It's going to make managing your sound very simple and convenient.
It will play nice with your games, your skype, notify you of changes politely, allow plenty of access, and provide any default windows functionality.
Feature summary:
Toggle between headphones and speakers modes easily (main window, key binding, one click mixer).
Tray icon (survives explorer crashes etc, incl right click menu's and one click mixer).
Key bindings (volume controls, skype etc).
Runs at start up, hidden by default.
Remembers volume settings for speakers and headphones seperately. (no nasty loud bursts of sound).
Automatically detect games in speaker mode, and switches to 5.1 channel optical audio. (w/ notification baloons).
Automatically detect when games are quit and restore audio to 2 channel audio (as to have superior music playback).
Knows about active skype calls, and thus wont interrupt it by changing the channel modes.
Remembers all of its settings, incl volume levels, bindings etc.
Shows mute status and output mode everywhere.
Answer skype calls from in-game with a hot-key without minimizing anything.
Restores the auzentech driver software when quit if required.
Advanced game manager will index your games in a snap. (has ignore options etc).
If you are an Xplosion 7.1 owner, I cannot recommend this highly enough.
download
.
If you wish you had this for another sound card, let us know in the
forum
.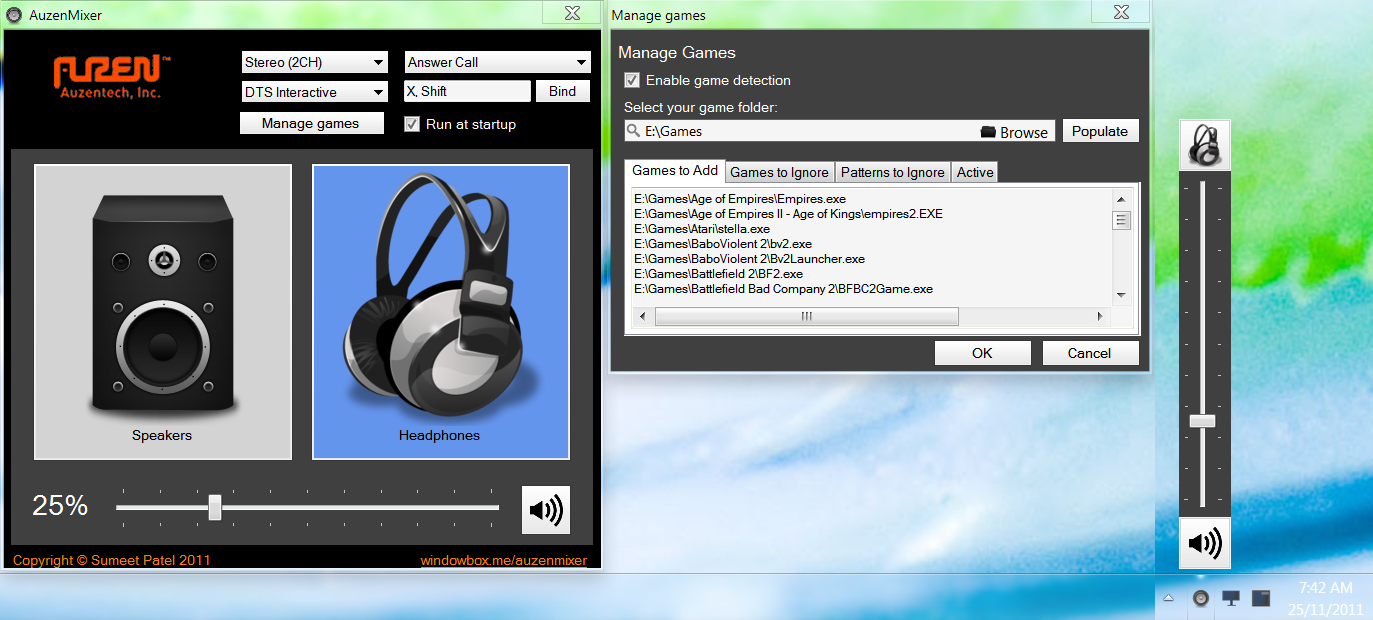 Main window