Welcome to the MultiWall website!
What is MultiWall?
MultiWall is a
free
windows desktop application that is designed for setting desktop wallpaper on any computer setup, especially those with more than one monitor.
This is providing what windows should have had a long time ago; it will make setting your wallpaper incredibly simple and easy.
Whats the problem?
Theres plenty!
Windows doesnt handle wallpaper well in general.
Multi-screen users have been left in the dark.
Ordinarily there are no features like pan/crop/zoom/bezel adjust, even with apps like ultramon and desktop-fusion
Users need to make backups of files and use photoshop to edit images just to look right.
Good wallpaper is hard to find, and hi-res wallpaper is even harder.
What does MultiWall do?
MultiWall in a simple sense, will take any image, and set it as your wallpaper - correctly.
It is dead simple to make adjustments to your wallpaper, and there are heaps of options.
You can stick with your original high resolution wallpapers.
It will take care of your multi-screen setup in any arrangement - and all of the adjustments will be compatible.
You have access to span your wallpaper, or to set each screen with a seperate or individual wallpaper.
Multiwall will even play nice with transperant png's throughout any processing.
Feature summary
A quick summary of functionality provided
You can Filter your wallpaper eg. Black and White, Grayscale, Sepia, Darken, Lighten and Invert.
You may Rotate your wallpaper, sometimes they feel new the other way around!
You can Crop (with anchors), Zoom and Pan your wallpaper easily!
Bezel adjustment works in all modes!
Span or Select different wallpaper for each screen.
Allows you to view and share high quality wallpaper with the community.
Crawl any website or feed for images!
Set up a slideshow / automatic cycle / periodic wallpaper change based on a website or feed.
And of course multi monitor setups are supported throughout!

If you like it, feel free to download it! and if you can donate, that'd be much appreciated.

You can quickly see a bunch of the features included in the slideshow below.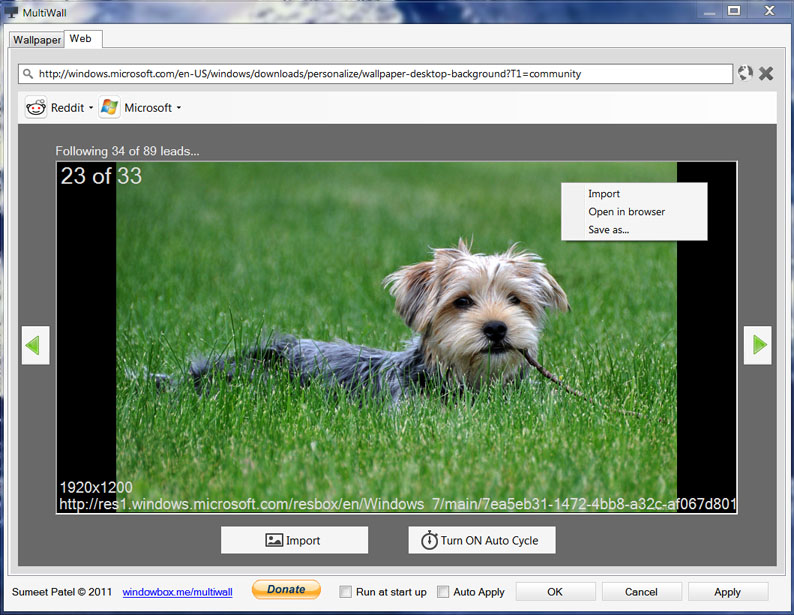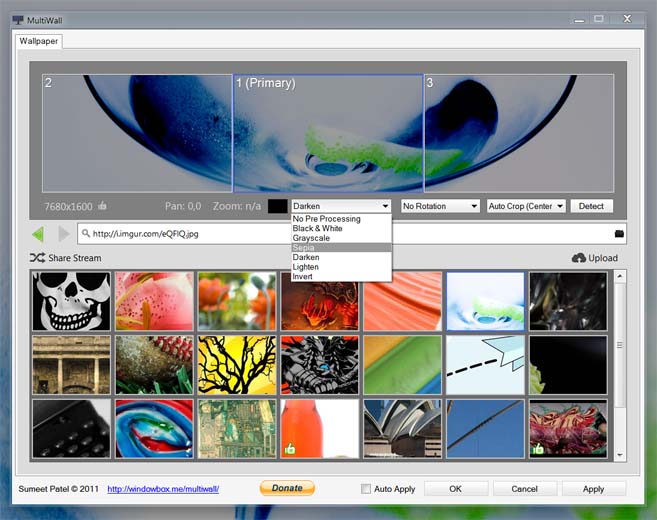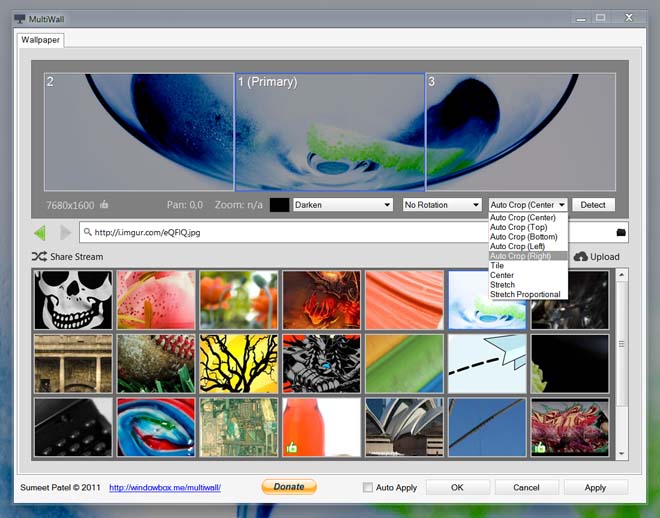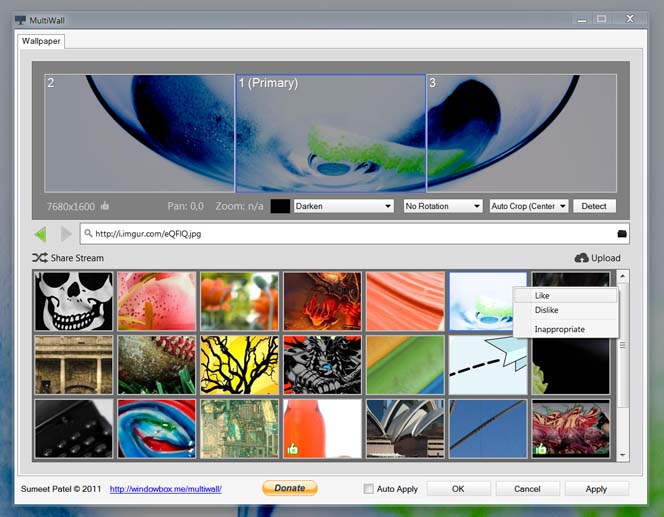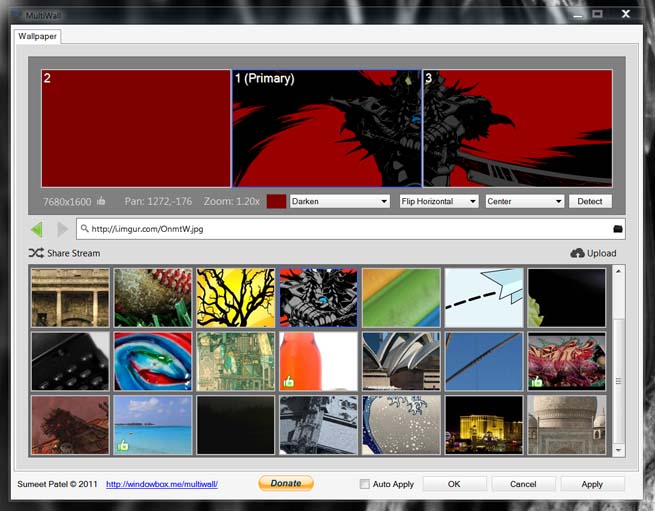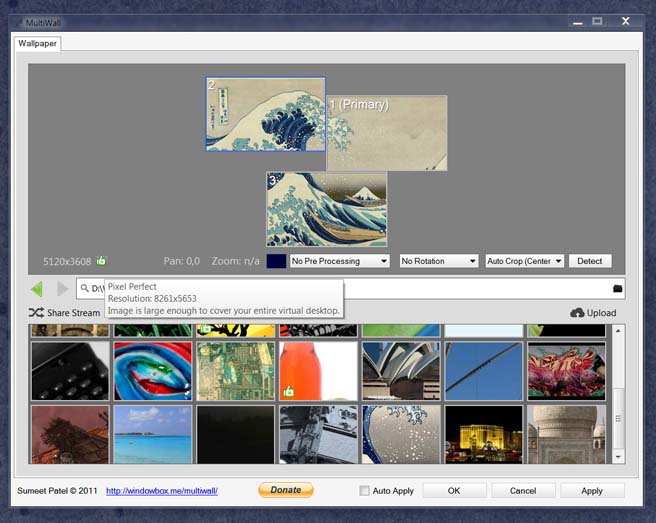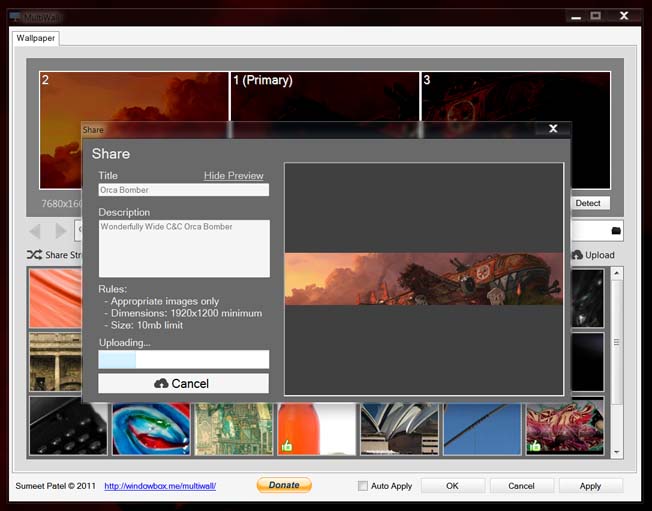 Loading